OVERVIEW
The ONV-IPS33032F is a full gigabit industrial Ethernet fiber switch independently developed by ONV. It is designed to meet industrial fields and systems. It has 2*10/100/1000Base-T RJ45 ports and 1*1000Base-X SFP fiber slot port. Each port can support full line-rate forwarding.
ONV-IPS33032F industrial Ethernet switch has excellent industrial field environment adaptability (including mechanical stability, climate adaptability, electromagnetic environment adaptability, etc.), protection level up to IP40, support for dual redundant power supply, low power consumption and no fan cooling technology, MTBF average trouble-free working time up to 35 years, 5-year warranty, unmanaged models, plug and play, no configuration, easy to use. It is suitable for industrial scenes such as intelligent transportation, rail transit, electric power, mining, metallurgy and green energy construction to form a cost-effective and stable communication network.
FEATURE
Gigabit wire-speed access, Gigabit uplink SFP Fiber port
◇ A combination of Gigabit Ethernet port and Gigabit SFP port to meet the networking requirements of various scenarios.
◇ Support non-blocking wire-speed forwarding.
◇ Support full-duplex based on IEEE802.3x and half-duplex based on Backpressure.
Stable and reliable
◇ Low power consumption, no fan, aluminum shell.
◇ CCC,CE, FCC, RoHS.
◇ The user-friendly panel, it can show the device status through the LED indicator of PWR, Link.
DIMENSION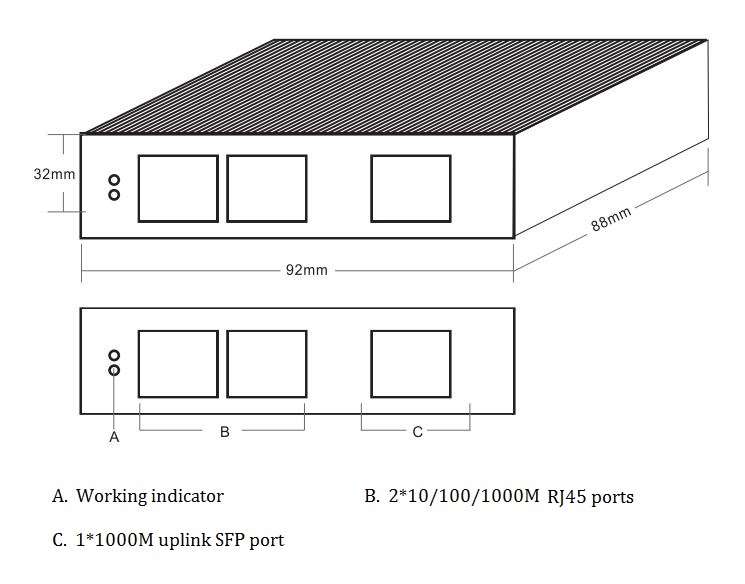 ORDERING INFORMATION
Model

Description

Recommended Power Supply

ONV-IPS33032F

Unmanaged industrial Ethernet fiber switch with 2*10/100/1000M RJ45 ports and 1*1000M SFP fiber slot port, Support DC redundant power supply input and DIN rail mounting.

12W/24W

Note: Industrial Ethernet switch does not include the power supply and SFP optical module.
PACKING LIST
PACKING LIST

CONTENT

QTY

UNIT

3-port full gigabit industrial Ethernet switch

1

SET

User Guide

1

PC

Warranty Card

1

PC