OVERVIEW
The ONV-POE58052PFM is a 10G uplink L3 managed PoE fiber switch independently developed by ONV. It has 48*10/100/1000Base-T adaptive RJ45 ports and 4*1/10G SFP+ fiber slot ports. Port 1-48 can support IEEE 802.3 af/at PoE standard. Single-port PoE power reaches 30W. As a PoE power supply device, it can automatically detect and recognize the power receiving equipment that meets the standard and supply power through the network cable. It can supply power to POE terminal equipment such as wireless AP, IP camera, VoIP phone, building visual access control intercom, etc. through network cable, to meet the network environment that needs high-density PoE power supply. It is suitable for hotel, campus, factory dormitory and small and medium-sized enterprise.
The ONV-POE58052PFM has L3 full network management function, supports IPV4/ IPV6 management, dynamic route full-speed forwarding, complete security protection mechanism, complete ACL/ QoS policy and rich VLAN functions, and is easy to manage and maintain. Supports multiple network redundancy protocols STP/RSTP/MSTP (<50ms) and (ITU-T G.8032) ERPS to improve link backup and network reliability. When one-way network fails, communication can be quickly restored to ensure important Uninterrupted communication for applications. According to the actual application requirements, you can configure multiple application services such as PoE power management, port traffic control, VLAN division, and SNMP through the Web network management mode.
FEATURE
Gigabit wire speed access, 10G uplink
◇ Support non-blocking wire-speed forwarding.
◇ Support full-duplex based on IEEE802.3x and half-duplex based on Backpressure.
◇ Support Gigabit Ethernet port and 10G SFP+ uplink port combination, which enables users to flexibly build networking to meet the needs of various scenarios.
Intelligent PoE power supply
◇ PoE network management, realize PoE port power allocation, priority setting, port power status viewing, time scheduling, etc.
◇ Comply with IEEE 802.3 af/at PoE standard, automatically identify PoE devices for power supply, and not damage non-PoE devices.
◇ 48*10/100/1000Base-T RJ45 support PoE power to meet the needs of security monitoring, teleconferencing system, wireless coverage, and other scenarios.
◇ The PoE port supports the priority mechanism. When the remaining power is insufficient, the power of the high-priority port is given priority to avoid overloading of the device.
Security
◇ Port isolation, storm control.
◇ IP+MAC+port+VLAN quadruple flexible combination binding function.
◇ 802.1X authentication provides authentication functions for LAN computers, and controls the authorization status of controlled ports according to the authentication results.
Strong business processing capability
◇ Support ERPS ring network and STP/RSTP/MSTP to eliminate layer 2 loops and realize link backup.
◇ Support IEEE802.1Q VLAN, Users can flexibly divide VLAN, Voice VLAN, and QinQ configuration according to their needs.
◇ Support static and dynamic aggregation to effectively increase link bandwidth, realize load balancing, link backup, and improve link reliability.
◇ Support QoS, port-based, 802.1P-based and DSCP-based three priority modes and four queue scheduling algorithms: Equ, SP, WRR, and SP+WRR.
◇ Support ACL to filter data packets by configuring matching rule processing operations and time permissions, and provide flexible security access control policies.
◇ Support IGMP V1/V2/V3 multicast protocol, IGMP Snooping meets multi-terminal high-definition video surveillance and video conference access requirements.
Stable and reliable
◇ CCC, CE, FCC, RoHS.
◇ Low power consumption, with fan, galvanized steel casing.
◇ The user-friendly panel can show the device status through the LED indicator of PWR, Link, PoE.
◇ Self-developed power supply, high redundancy design, providing a long term and stable PoE power output.
Easy O&M management
◇ HTTPS, SSLV3, SSHV1/V2 and other encryption methods are more secure in management.
◇ RMON, system log, and port traffic statistics are convenient for network optimization and transformation.
◇ LLDP is convenient for the network management system to query and judge the communication status of the link.
◇ Various management and maintenance methods such as Web network management, CLI (Console, Telnet), SNMP (V1/V2/V3), Telnet, etc.
DIMENSION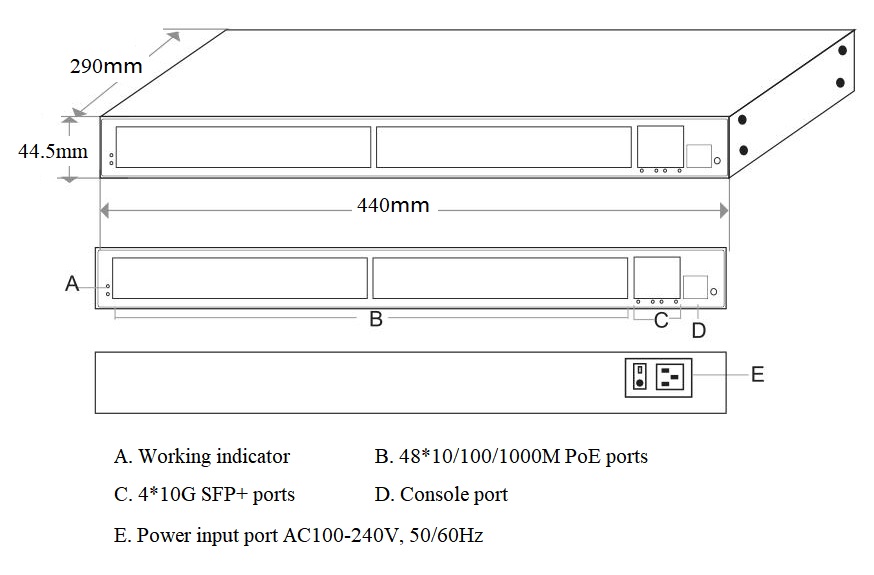 ORDERING INFORMATION
Model

Description

Built-in Power Supply

ONV-POE58052PFM

L3 managed PoE switch with 48*10/100/1000M RJ45 ports and 4*1/10G SFP+ ports. Port 1-48 support IEEE 802.3 af/at PoE standard. Built-in power supply. Support 1U/19 inch rack installation.

600W

Note: The optical module is not included by default and needs to be purchased separately.
PACKING LIST
Packing List

Content

Qty

Unit

52-port 10G uplink L3 managed PoE switch

1

SET

AC Power Cable

1

PC

RJ45-DB9 Line

1

PC

Mounting Kits(Hanging Ear)

1

SET

User Guide

1

PC

Warranty Card

1

PC
OPTICAL MODULE
Product

Model

Description

Unit

1.25G Optical Module

2630

SFP optical module, 1.25G, multi-mode dual fiber 850nm, transmission distance: 550m, LC interface, support DDM function, support hot plug and pull.

PC

2632

SFP optical module, 1.25G, single-mode dual fiber 1310nm, transmission distance: 20km, LC interface, support DDM function, support hot plug and pull.

PC

2612-T

SFP optical module, 1.25G, single-mode single fiber TX1310nm/ RX1550nm, transmission distance: 20km, LC interface, support DDM function, support hot plug and pull.

PC

2613-R

SFP optical module, 1.25G, single-mode single fiber TX1550nm/ RX1310nm, transmission distance: 20km, LC interface, support DDM function, support hot plug and pull.

PC

2612-T-SC

SFP optical module, 1.25G, single-mode single fiber TX1310nm/ RX1550nm, transmission distance: 20km, SC interface, support DDM function, support hot plug and pull.

PC

2613-R-SC

SFP optical module, 1.25G, single-mode single fiber TX1550nm/ RX1310nm, transmission distance: 20km, SC interface, support DDM function, support hot plug and pull.

PC

Power Module

2633

1.25G SFP optical module transfers to 10/100/1000M RJ45 port.

PC

10G

Optical

Module

6630

SFP+ optical module,10G multi-mode dual fiber 850nm, transmission distance: 300m, LC interface, support DDM function, support hot plug and pull.

PC

7832

SFP+ optical module,10G single-mode dual fiber 1310nm, transmission distance: 20km, LC interface, support DDM function, support hot plug and pull.

PC

7832-33

SFP+ optical module,10G single-mode single fiber TX1330nm/ RX1270nm, transmission distance: 20km, LC interface, support DDM function, support hot plug and pull.

PC

7832-27

SFP+ optical module,10G single-mode single fiber TX1270nm/ RX13300nm, transmission distance: 20km, LC interface, support DDM function, support hot plug and pull.

PC
RELATED PRODUCT
| | |
| --- | --- |
| Model | Description |
| ONV-POE58028PFM | L3 managed PoE switch with 24*10/100/1000M RJ45 ports and 4*1/10G SFP+ ports. Port 1-24 support IEEE 802.3 af/at PoE standard. Built-in power supply. Support 1U/19 inch rack installation. |
| ONV-POE58036PFM | L3 managed PoE switch with 16*10/100/1000M RJ45 ports and 8*10/100/1000Base-T RJ45 or 8*100/1000Base-X SFP combo ports and 4*1/10G SFP+ ports. Port 1-24 support IEEE 802.3 af/at PoE standard. Built-in power supply. Support 1U/19 inch rack installation. |