[Abstract]: The ONV-IPS31107PFM-2D managed industrial PoE data switch is designed for network data conversion that meets the serial-to-TCP/IP function. It can directly connect serial devices to the network.
The ONV-IPS31107PFM-2D is a Layer 2 gigabit uplink industrial managed PoE data switch independently developed by ONV. It has 7*10/100Base-TX RJ45 ports and 3*1000Base-X uplink SFP slot ports and 1*RS485 data port and 1*RS232 data port. Port 1-7 can support IEEE 802.3 af/at PoE standard, single-port PoE power up to 30W. It is designed for network data conversion that meets the serial-to-TCP/IP function. It can directly connect serial devices to the network.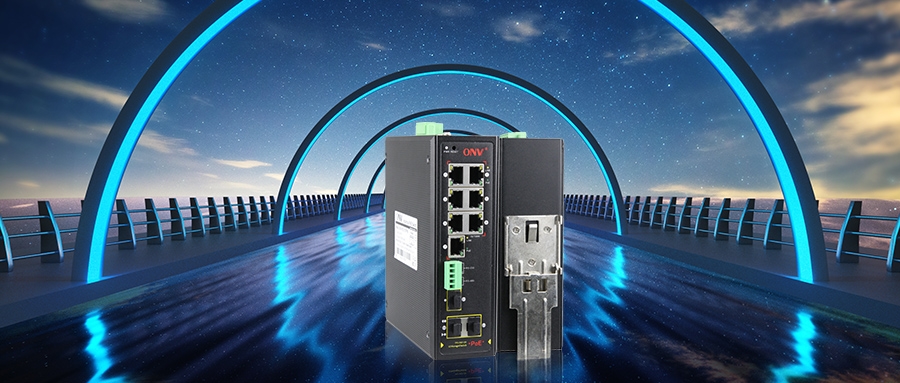 Two-way transparent transmission of serial data and network data
The ONV-IPS31107PFM-2D industrial managed PoE data switch has powerful service processing capability and provides serial to network function. It can convert RS232/485 serial port into TCP/IP network interface, realize data bidirectional between RS232/485 serial port and TCP/IP network interface. Transparent transmission. The serial device can immediately have the TCP/IP network interface function, connect the network for data communication, and greatly expand the communication distance of the serial device. RS232/485 conversion provides automatic data control, supports dynamic IP (DHCP), static IP, gateway and proxy server, and can transmit data over the Internet. With the serial port server and the hardware and software of the system based on TCP/IP network communication, the user can easily and quickly integrate the serial port device into the network communication system without any modification to the original system.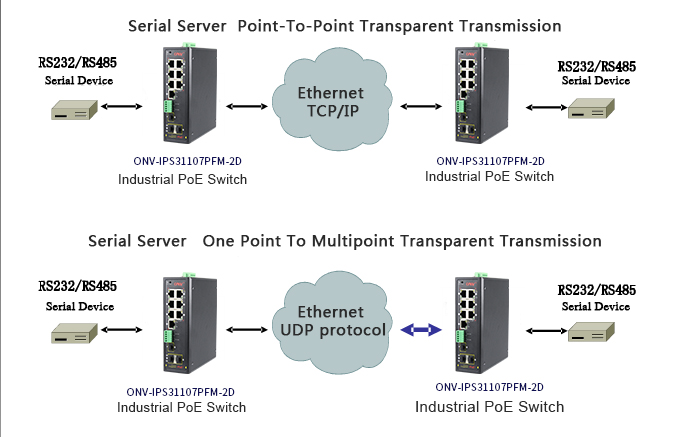 The RS232/485 two-in-one serial port is arbitrarily selected, and the maximum communication rate is 64Gbps. The communication rate is set by the WEB management program, and the communication rate is adaptive in the virtual serial communication mode.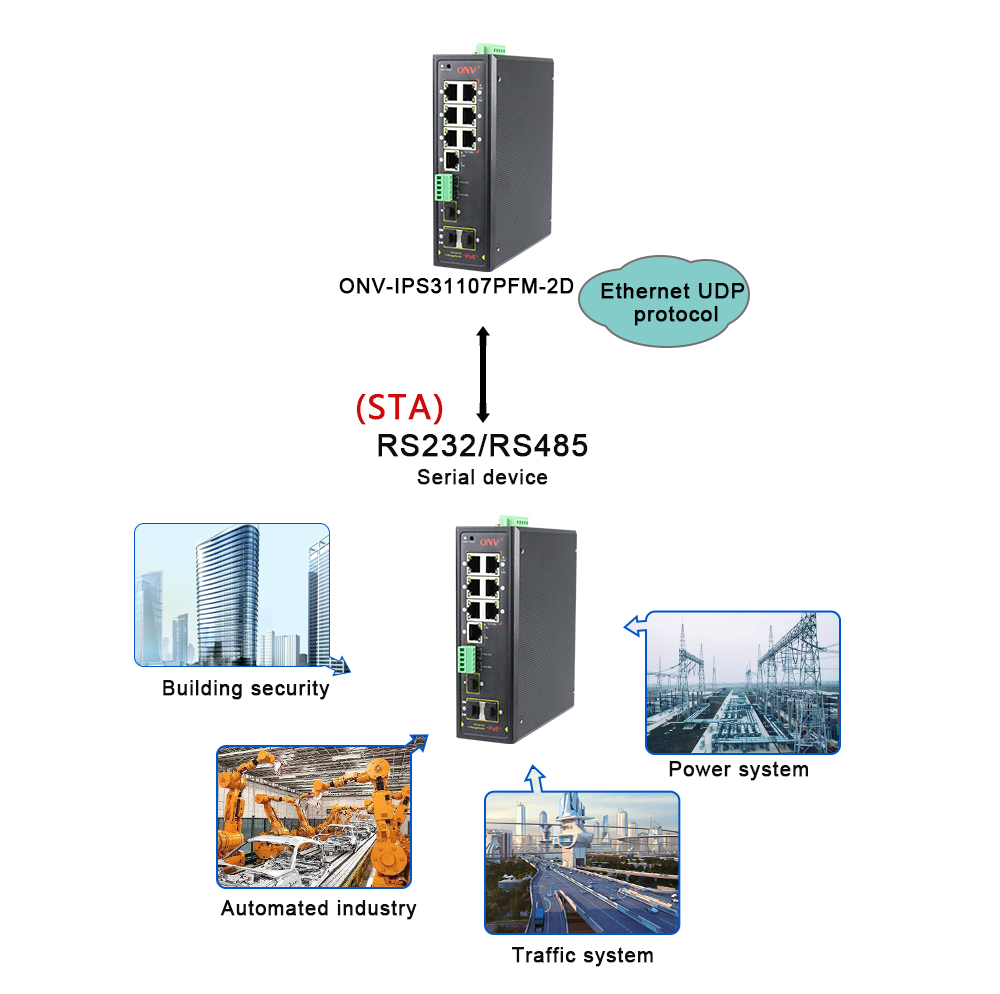 In addition to the basic functions of POE power supply and Ethernet switch, ONV-IPS31107PFM-2D industrial managed PoE data switch also changes the traditional switch and serial server networking connection mode, and can quickly realize RS-232/485 through ONV-IPS31107PFM-2D. The device is immediately networked, reducing the hassle of installation and connection while improving the reliability of signal transmission. Use the ONV-IPS31107PFM-2D industrial managed PoE data switch to access, manage, and configure remote devices from anywhere in the world, over the network. Its application fields are very wide, mainly used in access control systems, time and attendance systems, vending systems, POS systems, building automation systems, self-service banking systems, telecommunications room monitoring, power monitoring and other devices connected to Ethernet, to achieve network management and remote control.
Powerful network management function and fast ring function
Support IEEE 802.1Q VLAN, users can flexibly divide VLANs according to requirements and support port-based VLANs. Port isolation is used to isolate ports in the same VLAN. You can add the port to the isolation group to isolate the Layer two data between the ports in the isolation group. Port isolation provides users with a safer and more flexible networking solution.
Support QoS,port-based, 802.1P-based and DSCP-based three priority modes, and Equ, SP, WRR, SP+WRR four queue scheduling algorithms. Providing policy-based QoS to allocate bandwidth, priority, and control network access to application flows is a way to meet the bandwidth management policies required by service level protocols and to issue policies to switches.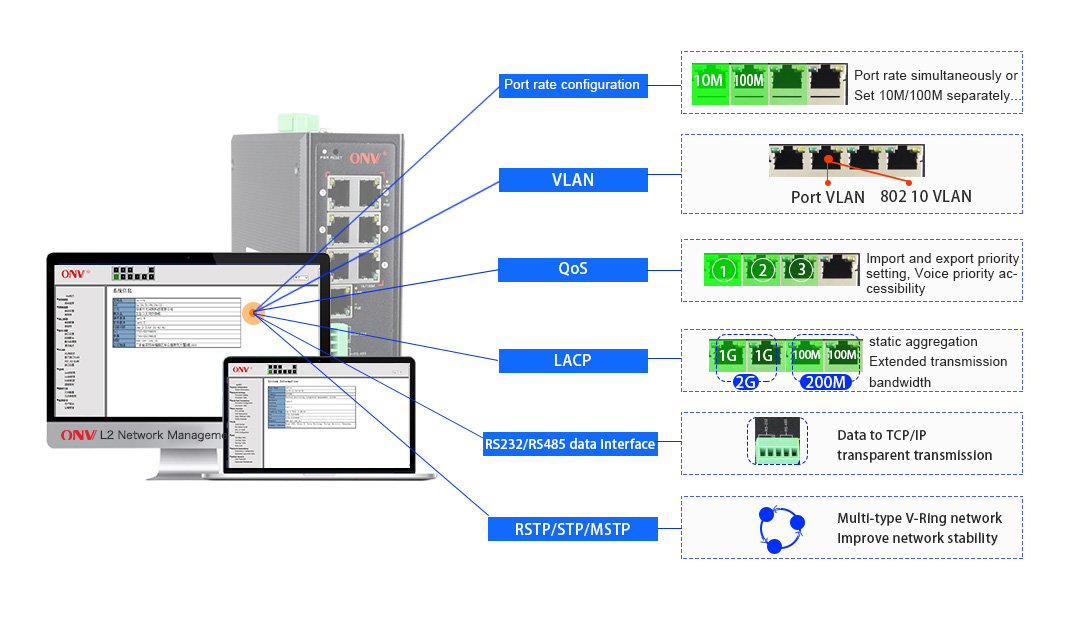 With fast ring network and redundant functions, it supports multiple network redundancy protocols STP/RSTP/MSTP (self-healing time <50ms) to improve link backup and network reliability. When the one-way network fails, communication can be quickly resumed. To ensure uninterrupted communication of important applications.
Super lightning protection function design
In the summer season, when thunderstorms occur frequently, the inductive lightning is likely to cause damage to the monitoring equipment or loss of the video picture, which brings certain challenges to the normal operation and stability of the monitoring system. The optical network regards the Gigabit uplink network industrial managed PoE data switch product port to support 6KV lightning protection, and the whole machine supports 8KV static protection; it can avoid port damage caused by inductive lightning and ensure the reliability of data transmission. Ensure that the device meets the monitoring transmission requirements in a complex environment while ensuring the smoothness of high-definition surveillance video transmission.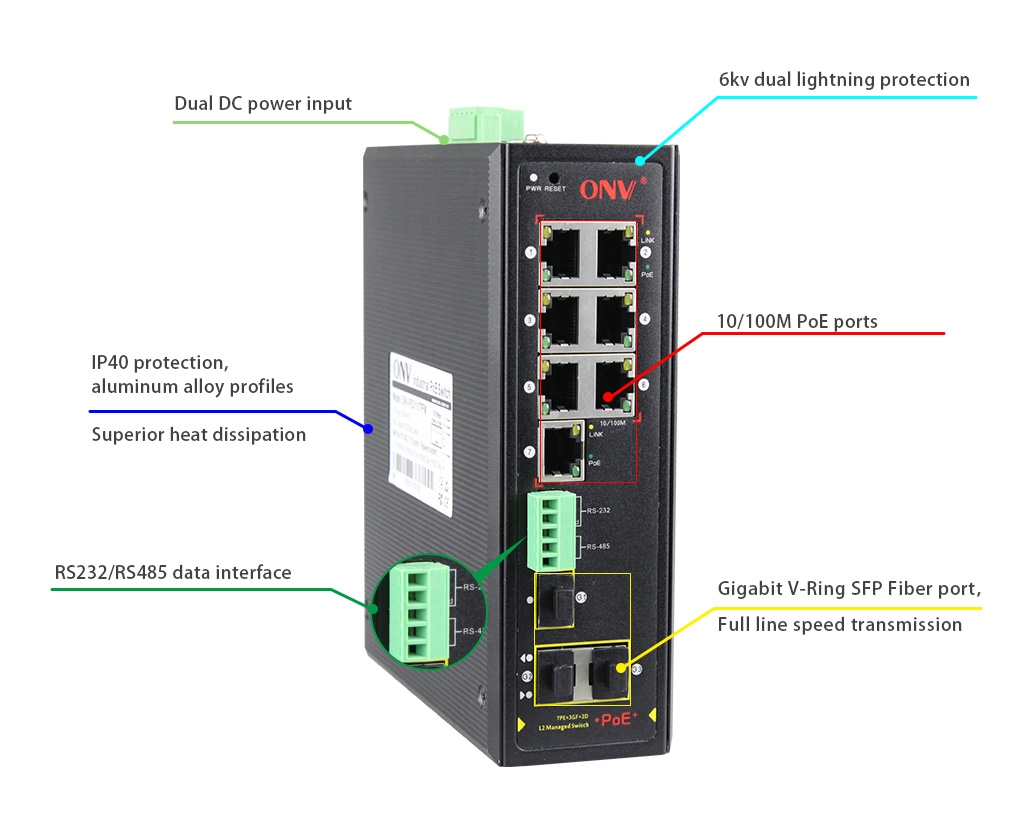 Application
The ONV-IPS31107PFM-2D industrial managed PoE data switch has a unique large cache and large backplane bandwidth design, which is more suitable for system networking, large-flow data access, transmission and management in a Gigabit network environment. It still uses industrial grade design, supports -40 ~ 80°C wide temperature, and redundant 48 ~ 57VDC power input, making it widely used in intelligent transportation, rail transit, power industry, industrial automation, mining, oil, Industrial scenes such as shipping, metallurgy and green energy construction form a cost-effective, stable and reliable communication network.