[Abstract]: AsleadingsmartPoEswitchmanufacturer,ONVnowispublishingnewseries,layer310GmanagedPoEswitch,modelONV-POE38036PFM.Ithasadvancedhardwareprocessingcapabilityandthemostabundantservicefeaturesforenterprise.
As leading smart PoE switch manufacturer, ONV now is publishing new series, layer 3 10G managed PoE switch, model ONV-POE38036PFM. It has advanced hardware processing capability and the most abundant service features for enterprise.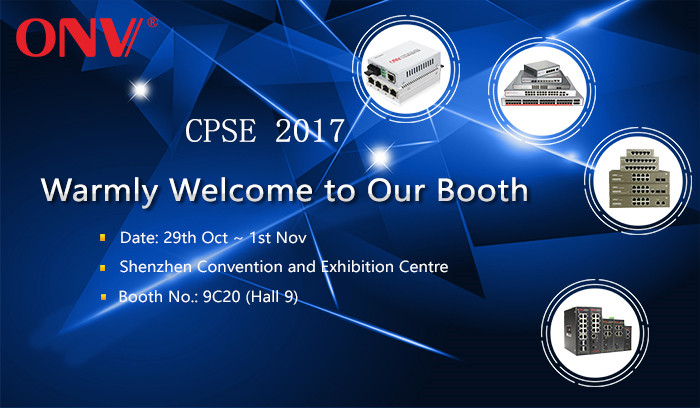 ONV-POE38036PFM, 36-Port 10G L3 Managed PoE Switch, supports 24*10/100/1000M PoE ports + 8*Gigabit fiber ports + 4*10G SFP+ fiber ports, among which port 1 - 24 support PoE at IEEE802.3af/at.
The PoE switch supports layer 3 switching function, VLAN, port aggregation, port mirroring, port isolation, port flow control, port speed limit, storm control, QOS and ACLs etc. Also it supports spanning tree including STP, RSTP and MSTP etc.
In addition, this switch supports advanced management of the WEB, CLI, TELNET, SNMP. Max support four 10G SFP ports, while implementing gigabit gathering or access retains the ability to further support the expansion of the 10G. It can be widely used in aggregation layer in a large scale of network for government and enterprises, or in core layer in a small and medium-sized network system.
A. Basic Specification
Model

ONV-POE38036PFM

Ports

24*10/100/1000M PoE RJ45 ports

8*Gigabit SFP ports

4*10G SFP+ ports

Management port

1x Console port

Reset key

1x Reset key, for restore default settings

Switching Capacity

368G

Packet Forwarding Rate

107Mpps @ 64byts

Operating temperature

-20~+55°C

Input voltage

AC: 110~240V/50~60Hz

Total power consumption

400W
B. Functional Specification
Model

ONV-POE38036PFM

Protocol & Standard

IEEE 802.3,10BASE-T Ethernet;

IEEE 802.3u, fast Ethernet Standard;

IEEE 802.3ab, gigabit Ethernet Standard;

IEEE 802.3z, gigabit Ethernet Fiber Standard;(AOC fiber cable)

IEEE 802.3ae,10G Ethernet Standard;

IEEE 802.3x, full-duplex Ethernet data link layer flow control;

MAC

32K

supports automatic updates, two-way learning;

SRAM Buffer

32Mb

VLAN

Support up to 4K VLAN;

Support port-based VLAN;

Support 802.1Q tag-based VLAN;

Spanning Tree

STP, RSTP, MSTP

Port Aggregation
(TRUNK)

Support 4x 10G ports aggregation, support 32x gigabit ports aggregation

Support 16x groups aggregation

Port Mirroring

Support multiple to single Port mirroring, no limit for quantity of mirroring source ports

Port Isolation

Support downstream ports isolated from each other, while opening communication with upstream ports

Port Flow Control

Support half-duplex back pressure based control;

Support full-duplex PAUSE frame based control;

Port Speed Limit

Support port-based input/output bandwidth management

Storm Control

Prevents traffic on a LAN from being disrupted by a broadcast, multicast, or unicast storm on a port

Support port storm threshold setting

Security Features

Hardware support port-based IP+MAC Binding;
Hardware support port-based ARP inspection detection;

QOS

SP (Strict Priority);

WFQ (Weighted Fair Queuing);

WRR (Weighted Round Robin);

Head Of Line;

Best-Effort Service;

First come first served;

802.1p;

Cos/Tos, QOS;

Differentiated Service;

Network Cable Line Sequence

Support