OVERVIEW
PoE injector is also called the Power over Ethernet mid-spans equipment. The centralized PoE injector is also called the PoE module. ONV-PSE3301DC is an unmanaged PoE injector independently developed by ONV. It has 1*10/100/1000M RJ45 port. It can support IEEE802.3af/at PoE standard. Single-port PoE power reaches 30W, and the maximum PoE output power of the machine is 18W (at-35W). As a PoE power supply device, it can automatically detect and identify the power receiving device that meets the standard and supply power to it through the network cable. It can supply power to POE terminal equipment such as wireless AP, IP camera, IP phone, video access control intercom and other PoE terminal equipment through the network cable to meet the network environment that requires high-density PoE power supply.
It is suitable for hotels, campuses, factory dormitories, and small and medium-sized enterprises.
Unmanaged model, plug and play, no configuration required, easy to use. PoE injector provides a simple, economical, high-performance, intelligent solution for PoE power over Ethernet and data communication. Simple to use, easy to install, superior in performance and cost-effective, it is an ideal choice for customers to improve the quality of their projects. Under the condition that the power supply cannot be provided remotely, the traditional power line network can be expanded, the use of power lines can be reduced, and the construction cost and maintenance cost of the project can be effectively reduced.
FEATURE
Gigabit Ethernet port (1 Ethernet in and 1 Ethernet out ) easy to connect
◇ Support non-blocking wire-speed forwarding.
◇ Using 1 Ethernet in and 1 Ethernet out connection mode, 1*10/100/1000Mbps RJ45 port, convenient connection, and simple maintenance.
Smart PoE power supply function
◇ IEEE 802.3af/at PoE standard, without damaging non-PoE devices.
◇ 1*10/100/1000Base-T RJ45 port support PoE power, meeting the needs of security monitoring, teleconferencing system, wireless coverage, and other scenarios.
Stable and reliable
◇ CCC, CE, FCC, RoHS.
◇ Support desktop and wall-mounted installation.
◇ Plug and play, no configuration, simple and convenient.
◇ The user-friendly panel can show the device status through the LED indicator of PWR, PoE.
◇ Low power consumption, active fan cooling design, metal casing to ensure stable operation of the product.
◇ Self-developed power supply, high redundancy design, providing a long term and stable PoE power output.
DIMENSION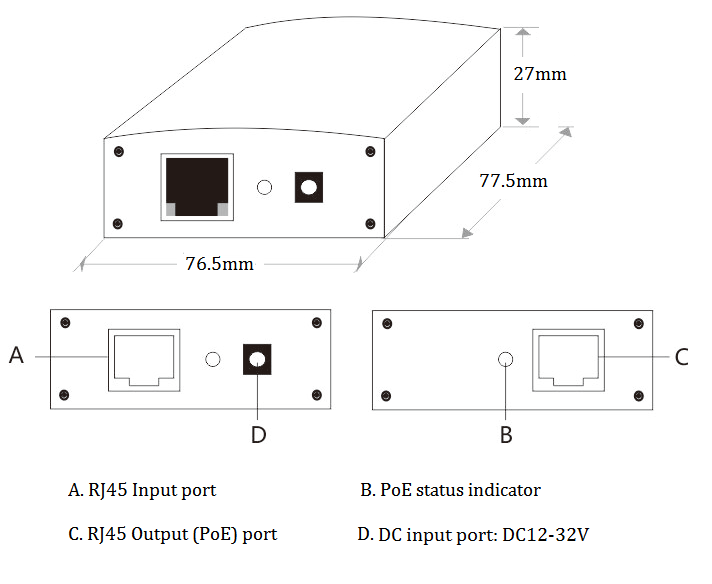 ORDERING INFORMATION
Model

Description

External Power Adapter

ONV-PSE3301DC

Single-port Gigabit PoE injector can support IEEE802.3af/at PoE standard. The uplink port supports PoE output, and the downlink port supports network connection. It support desktop, wall-mounted installation.

18W

ONV-PSE3301DC-at

35W
PACKING LIST
PACKING LIST

CONTENT

QTY

UNIT

Single-port Gigabit PoE Injector

1

SET

User Guide

1

PC

Warranty Card

1

PC