In the present-day society, Network has been influencing different industry or field in an overwhelming superiority. And the use of network is the indispensable ingredient of production, operation and management for an enterprise, while the Switch plays a very important role in the network transmission.
To meet clients' demands in a better way, ONV has launched the 16-Port Managed Industrial PoE Switch (Model Number: ONV-IPS33168PFM). In addition to providing with powerful web management function, but also with a better performance on safety.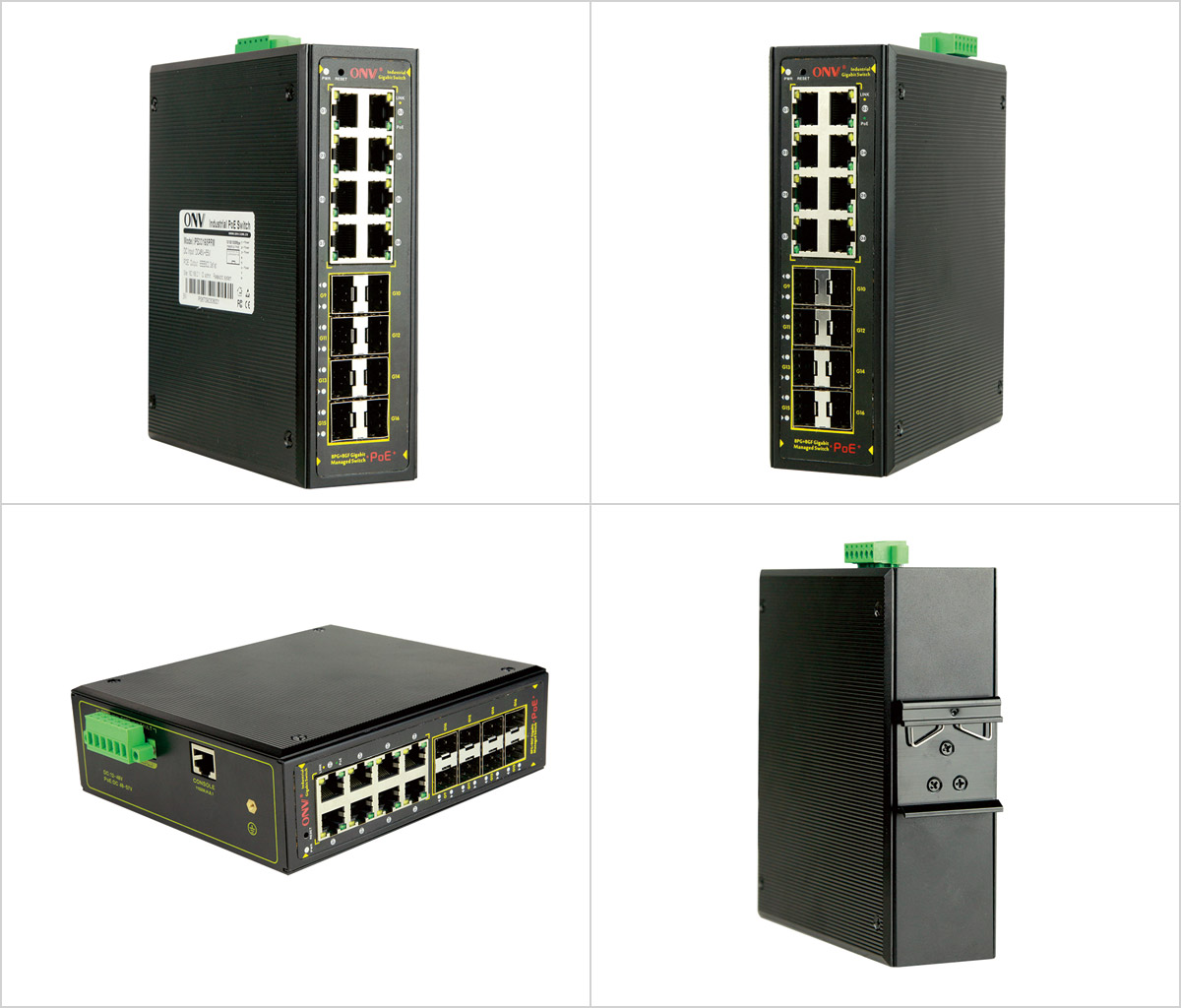 ONV-IPS33168PFM (8*10/100/1000M RJ45 Ports + 8*Gigabit SFP Ports PoE Switch) as the ONV NEW Generation L2+ Managed PoE+ Switch, is designed in a standard L2 and non-blocking switching solution with better performance on management, safety and QoS etc.
Application
ONV-IPS33168PFM can meet the demand that setting up a high performance network to transmit data, voice and video through connecting all computers in client side or APP. It may be applied in following scenes.
1. Connect with PC or laptop that needed safety and high performance.
2. Connect with wireless equipment that needed safe and high-quality transmission.
3. Unified communications with open standards
To be a managed network solution, it provides the high performance and advanced networking quality to deliver all networking communications and data (such as IP telephony, IP surveillance, and Video Streaming) over a single network
Feature
1. Security, performance, quality of services, central managed and other network control capabilities.
2. Optimized and customized design and cost-effective pricing.
3. Excellent performance and reliability.
4. Strong security:
The ONV-IPS33168PFM is with fan-less & low consumption design. Supporting Looped Network Redundancy. (Self-healing time <20ms, with complete security and QoS policy, support VLAN division, port mirroring, port speed limit. Support broadcast storm suppression & flow control. Managed through a variety of interfaces and ways including the WEB, CLI and SNMP etc.
With the wide working temperature and anti-surge protection in all ports, it is widely used in rail traffic, electricity, water conservancy, petrochemical, industrial control, electric alarm bayonet and other harsh environment, stability required strictly industry or place.