OVERVIEW
The ONV-POE33108PFG-bt is a gigabit bt PoE fiber switch independently developed by ONV. It has 9*10/100/1000Base-T RJ45 ports and 1*1000M uplink SFP slot port. Port 1-8 can support bt POE and backward compatible with IEEE802.3af/at PoE standard. Single-port maximum output power is 90W. As a PoE power supply device, it can automatically detect and recognize the power-receiving equipment that meets the standard and supply power through the network cable. It provides stable and safe terminals for PTZ network domes, high-power wireless AP, high-power network multimedia speakers, and high-power POE lighting, etc. through a network cable to meet the network environment that needs high-density PoE power supply. It is suitable for hotels, campuses, parks, shopping malls, scenic spots, hospitals,, factory dormitory and small and medium-sized enterprise.
Unmanaged model, plug and play, no configuration, easy to use.
FEATURE
Full gigabit access, gigabit TP/SFP uplink
◇ Support non-blocking wire-speed forwarding.
◇ Support full-duplex based on IEEE802.3x and half-duplex based on Backpressure.
◇ Gigabit RJ45 ports and SFP fiber port combination, high-speed high-bandwidth connection, to meet the networking needs of various scenarios.
Smart PoE power supply function
◇ 8*10/100/1000Base-T RJ45 ports can support bt PoE power supply, meeting the demand for super high power PoE power supply in various scenarios.
◇ Priority system for PoE port, it will supply power to the high priority level port first when the power budget is insufficient and avoid overwork of the device.
◇ The maximum output power of single-port POE is 90W, and the backwards compatibility IEEE802.3af/at PoE power supply standard automatically identifies PoE devices for power supply without damaging non-PoE devices.
Stable and reliable
◇ CCC,CE, FCC, RoHS.
◇ Plug and play, no configuration, simple and convenient.
◇ Low power consumption, galvanized steel casing, No fan.
◇ The user-friendly panel can show the device status through the LED indicator of PWR, Link, PoE.
◇ Self-developed power supply, high redundancy design, providing a long term and stable PoE power output.
DIMENSION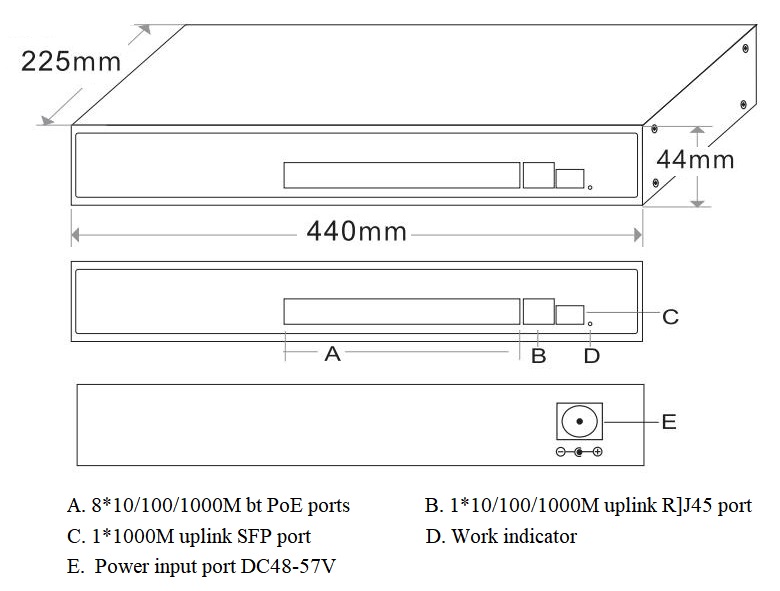 ORDERING INFORMATION
Model

Description

Configure Power Supply

ONV-POE33108PFG-bt

Unmanaged bt PoE switch with 9*10/100/1000M RJ45 ports and 1*1000M uplink SFP port. Port 1-8 can support bt POE and backward compatible with IEEE802.3af/at PoE standard. Built-in power supply, support 1U rack installation.

600W

Note: bt PoE switch does no include the SFP module.
PACKING LIST
Packing List

Content

Qty

Unit

10-port full gigabit bt PoE fiber switch

1

SET

AC Power Cable

1

SET

Mounting Kits

1

SET

User Guide

1

PC

Warranty Card

1

PC
OPTICAL MODULE
Product

Model

Description

Unit

1.25G Optical module

2630

SFP optical module, 1.25G, multi mode dual fiber 850nm, transmission distance: 550m, LC interface, support DDM function, support hot plug and pull.

PC

2632

SFP optical module, 1.25G, single-mode dual fiber 1310nm, transmission distance: 20km, LC interface, support DDM function, support hot plug and pull.

PC

2612-T

SFP optical module, 1.25G, single-mode single fiber TX1310nm/RX1550nm, transmission distance: 20km, LC interface, support DDM function, support hot plug and pull.

PC

2613-R

SFP optical module, 1.25G, single-mode single fiber TX1550nm/RX1310nm, transmission distance: 20km, LC interface, support DDM function, support hot plug and pull.

PC

2612-T-SC

SFP optical module, 1.25G, single-mode single fiber TX1310nm/RX1550nm, transmission distance: 20km, SC interface, support DDM function, support hot plug and pull.

PC

2613-R-SC

SFP optical module, 1.25G, single-mode single fiber TX1550nm/RX1310nm, transmission distance: 20km, SC interface, support DDM function, support hot plug and pull.

PC

Power Module

2633

1.25G SFP optical module transfers to 10/100/1000M RJ45 port.

PC
RELATED PRODUCT
| | |
| --- | --- |
| Model | Description |
| ONV-POE33064P-bt | Unmanaged bt PoE fiber switch with 4*10/100/1000M RJ45 ports. Port 1-4 can support bt POE and backward compatible with IEEE802.3af/at PoE standard. External 250W power supply. |
| ONV-POE31064P-bt | Unmanaged bt PoEswitch with 6*10/100M RJ45 ports. Port 1-4 can support bt POE and backward compatible with IEEE802.3af/at PoE standard. External 250W power supply. |
| ONV-POE33016PF-bt | Unmanaged bt PoE switch with 16*10/100/1000M RJ45 ports and 2*1000M uplink SFP ports. Port 1-16 can support bt POE and backward compatible with IEEE802.3af/at PoE standard. Built-in 1200W power supply, support 1U rack installation. |