OVERVIEW
The ONV-H3218F is an unmanaged gigabit Ethernet fiber switch independently developed by ONV. It has 16*10/100/1000M RJ45 ports and 2*1000M SFP ports. The RJ45 and SFP combined interface can be unaffected by the transmission medium, realizing convenient connection and expansion of the network. The scheme of the large backplane and large cache switching chip is preferred to improve the forwarding rate of large files and effectively solve the problems of video freeze and picture loss in the high-definition surveillance environment. It is suitable for hotels, banks, campuses, factory quarters and small and medium-sized enterprises to establish a cost-effective network.
Unmanaged mode, plug and play, no configuration, simple and convenient to use.
FEATURE
Full gigabit rate, high-speed transmission
◇ A combination of Gigabit Ethernet port and Gigabit SFP port to meet the networking requirements of various scenarios.
◇ Support non-blocking wire-speed forwarding.
◇ Support full-duplex based on IEEE802.3x and half-duplex based on backpressure.
Stable and reliable
◇ CE, FCC, RoHS.
◇ Low power consumption, metal casing, the fan active cooling.
◇ Self-developed power supply, high redundancy design, providing a long term and stable power output.
Easy to operate
◇ Plug and play, no configuration, simple and convenient.
◇ The user-friendly panel, it can show the device status through the LED indicator of PWR, Link/Act.
DIMENSION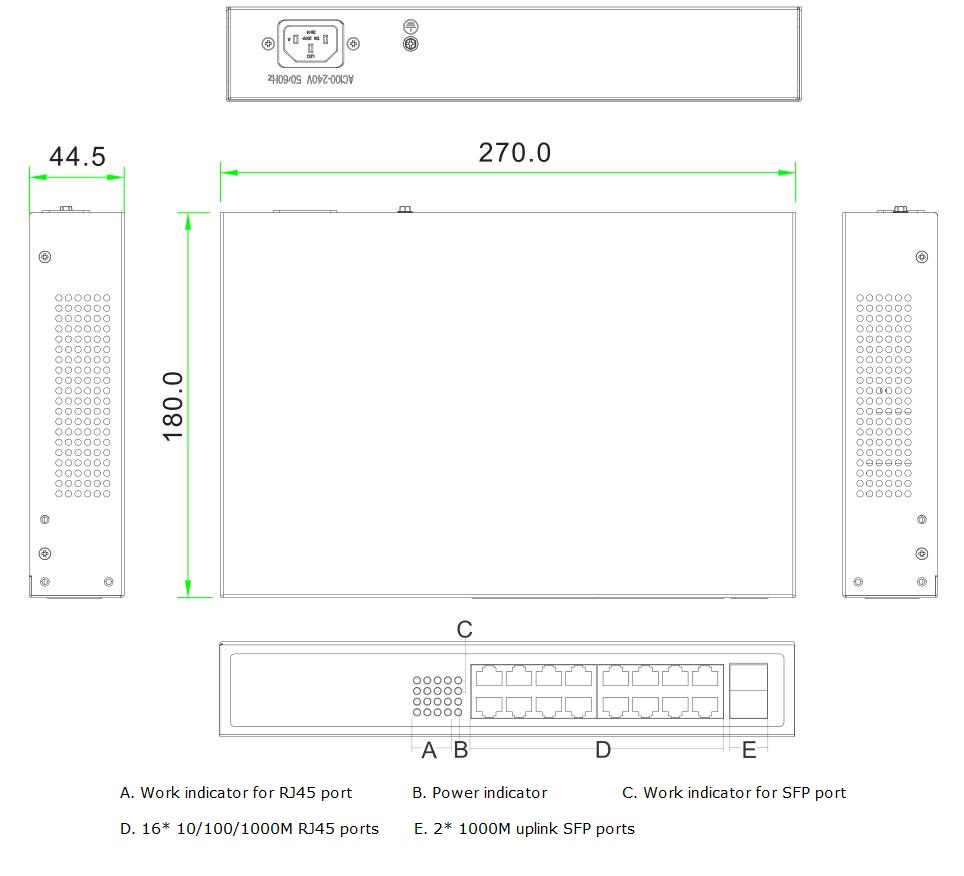 ORDERING INFORMATION
| | |
| --- | --- |
| Model | Description |
| ONV-H3218F | Unmanaged Ethernet fiber switch with 16*10/100/1000M RJ45 ports and 2*1000M SFP ports. Built-in 30W power supply. |
| ONV-H3226F | Unmanaged Ethernet fiber switch with 24*10/100/1000M RJ45 ports and 2*1000M SFP ports. Built-in 30W power supply. |
| ONV-H3226FU | Unmanaged Ethernet fiber switch with 24*10/100/1000M RJ45 ports and 2*1000M SFP ports. Built-in 30W power supply. |
PACKING LIST
PACKING LIST

CONTENT

QTY

UNIT

18-port gigabit Ethernet fiber switch

1

SET

AC Power Cable

1

PC

Mounting Kits

1

SET

User Guide

1

PC

Warranty Card

1

PC