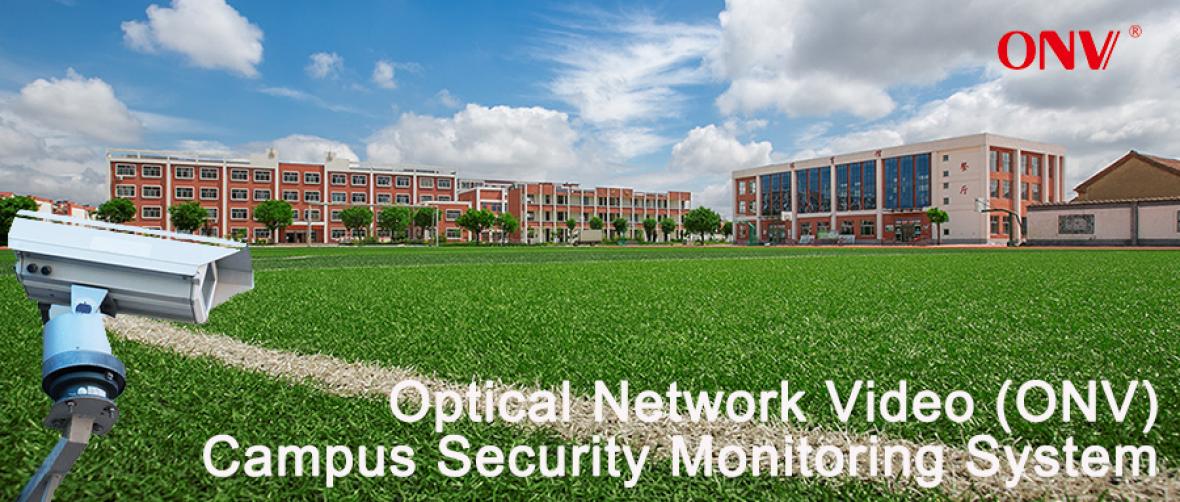 Project Introduction
The Affiliated Secondary School of NUA is affiliated to Nanjing University of the Arts. It is located in Nanjing University of the Arts. It was founded in 1958, with 25,000 square meters and 20 classes. It has complete modern teaching and living facilities. The video surveillance system of the optical network has been stationed on the campus one after another, becoming an important technical means for the campus to do a good job in campus security.
Background Needs
Due to the increasing number of people and vehicles entering and leaving the campus, in order to ensure the safety and safety of students' personal and property, video surveillance systems, vehicle management systems, alarm management systems have emerged. Combined with the comprehensive supervision platform of the smart campus, the comprehensive and comprehensive supervision of the entire campus is realized.the comprehensive problem of security systems has become a serious injury in the process of use. As more and more subsystems are built, each subsystem operates independently and controls, and the information island phenomenon is serious, and the problem gradually emerges.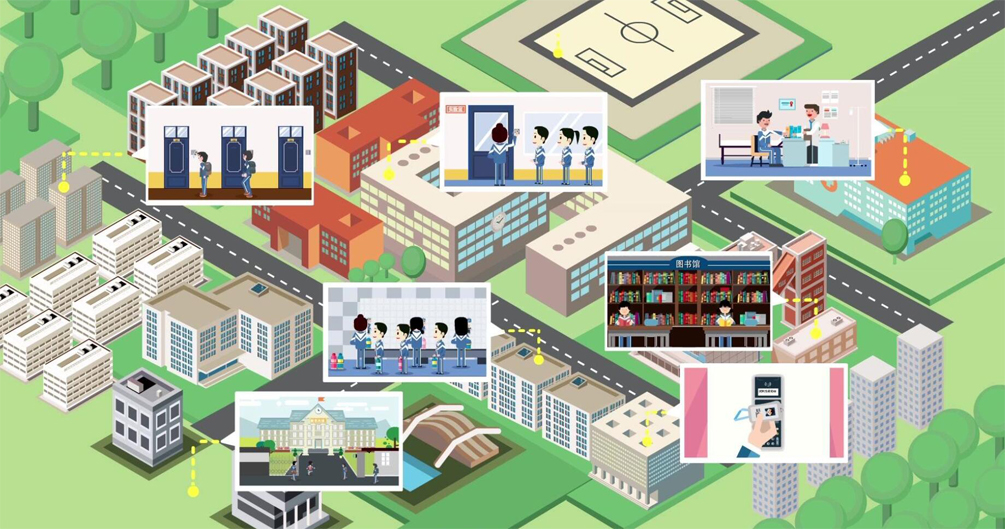 Campus Security Monitoring Solution
The scheme system combines intelligent management methods, uses intelligent analysis technology, and simultaneously uses video surveillance system, vehicle management system, access control management system and alarm management system to comprehensively manage people, vehicles and objects inside and outside the campus, and change passive monitoring to take the initiative. Defense, the central management platform can also integrate other security systems in colleges and universities to achieve information sharing, unified linkage, and improve the overall security management level of the campus.
The transmission architecture is the "neural network" of the network monitoring system. To ensure the bandwidth requirements of image transmission and real-time storage, the network video surveillance system should use a dedicated network, with gigabit fiber as the backbone, 100M access, and reserve for the future. Mega expansion capability. The monitoring center sets up the core switch to aggregate all video data of each area and the sub-control center.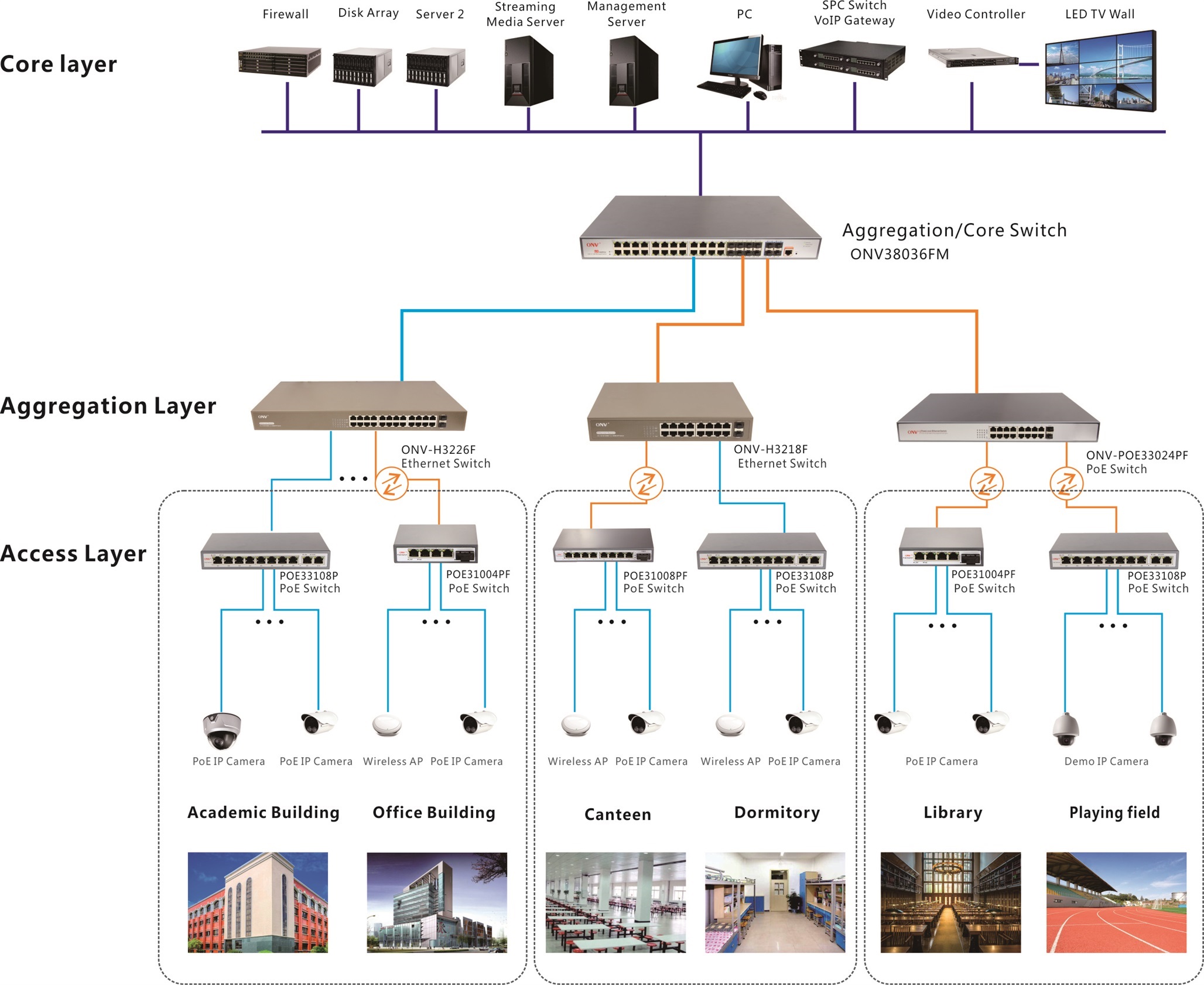 Topology architecture
A star topology network is adapted to implement a two-layer architecture, and simple topology enhances system stability.
Switching capacity configuration
The access layer adopts a Gigabit backplane, and a large cache PoE power supply switch to set up the highest configuration switching capacity link
Link medium
The access layer links are all based on the principle of proximity, using CAT6 network cable connection and transmission, and then connected to each unit aggregation switch through the uplink port of each power supply switch, reducing multi-level series, convenient for the entire system after completion Management and maintenance.
Device configuration
The access layer adopts Optical Network Video (ONV) commercial series 8/24 ports gigabit PoE fiber switch as the backbone, and 8/18/28 ports gigabit security PoE power supply switch access.
Application Product
Commercial Series PoE switch

Flexible interface design, large switching capacity, non-blocking architecture design
Adopt enterprise-class Ethernet switch chip solution, comply with IEEE 802.3 10BASE-T, IEEE 802.3u 100BASE-TX, IEEE 802.3ab 1000BASE-T, IEEE 802.3z international standard.
Adopting Microsemi's military-grade smart Ethernet power supply chip solution, the entire protocol implements IEEE802.3af and IEEE802.3at international standards;
Highly reliable network performance design, strong anti-interference ability, ensuring reliable data transmission;
Port anti-surge protection 4KV, power input port anti-surge protection common mode 6KV;
IP30 protection, galvanized steel metal casing;
Desktop/19-inch cabinet installation
Each port can support non-blocking wire-speed forwarding, and the transmission is smoother;
Store and forward working mode (linear speed can be reached within 64~1536 frame length);
Passed CCC, CE, FCC, RoHS certification testing
Product insurance for China Taiping product insurance, Ethernet power supply promises never burn out access device, quality assurance, lifetime maintenance;
Network transmission performance optimization design, Cat.5e UTP can easily achieve signal transmission within 100 meters; Gigabit uplink SFP fiber port, easy to connect.
The ONV's products have passed the ISO9001 quality system certification, strictly control the production process of the products, and the products are stable and reliable.
The PoE transmission industry's largest manufacturer, technical support and after-sales service is reliable and worry-free.
The host has low power consumption, active cooling design of the fan, galvanized steel and metal casing, and excellent heat dissipation to ensure stable operation of the product.
Security Ethernet Switch

Comply with IEEE802.3, IEEE802.3u, IEEE802.3X, IEEE802.3ab, IEEE802.3z network protocol standards;
Provide a port status LED indicator to display the connection status in real time;
Support 10/100/1000M full-duplex, half-duplex auto-negotiation