Lishui Tobacco Monopoly Administration has eight branches, such as Qingtian, Qingyuan, and Songyang, under its jurisdiction. To keep abreast of the company's dynamic, efficient and stable intelligent monitoring system is imminent. Through investigating the current situation of the security system of the Lishui Tobacco Monopoly Administration, the pertinent upgrading technical scheme is putting forward. The newest technology of monitoring industry is used to solve the pain point that the original analog monitoring system can not becentralized management through the network. At the same time, the image quality of the whole system is improved to meet the current management of video monitoring system . Requirements; At the same time, the independent alarm system of each branch has been upgraded through the network, which makes the whole alarm system become a centralized management system of cross-regional networking.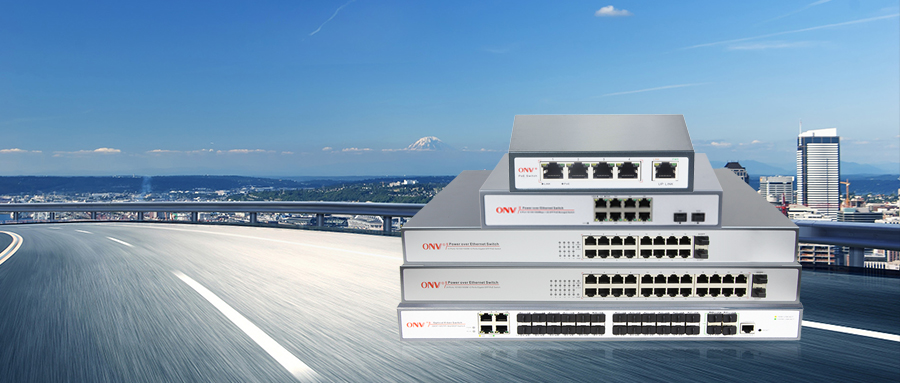 Solution Design
Mainly carries on the omnidirectional and three-dimensional monitoringto the entire Lishui tobacco monopoly company , Including the design of the monitoring system of the subsidiary companies under its jurisdiction , builds the local area network of the monitoring center of data transmission , and first accesses the front-end points data onto the sub-control center of distributed storage , and the general control center manages all the videos. View and decode to the TV wall, and centralize the storage of important point video. This will inevitably result in large concurrent data traffic, which will cause great pressure on the monitoring network.
In this upgrade, The access layer adopts Optical Network Video (ONV) 4-port PoE switch, 8-port PoE switch, 10-port PoE fiber switch, 18-port PoE fiber switch, 26-port Gigabit PoE fiber switch, 28-port convergent switch, and gigabit optical modules.
Optical Network Video [ONV] PoE switch has the product characteristics of full line speed, large backplane, large cache, and large throughput. It also has the professional design features of security video transmission. It can deal with various security transmission application scenarios calmly, eliminate video jamming and escort high-definition video transmission.
1.In view of the regional factors of the project, the optic fiber network is selected to ensure smooth 7*24h uninterrupted and stable transmission of large-code and high-definition images with larger bandwidth and lower delay.
2.Large area, a wide distribution of sub-bureaus and long-distance. Optical fiber is chosen as the medium to build a non-interference, easy-to-expand optical fiber network communication system.
3.Reduce the network level, simplify the system topology structure, make the network concise and clear, physical topology structure to simplify, easy layout, easy maintenance.
4.The transmission equipment should have good anti-interference ability and lightning protection ability.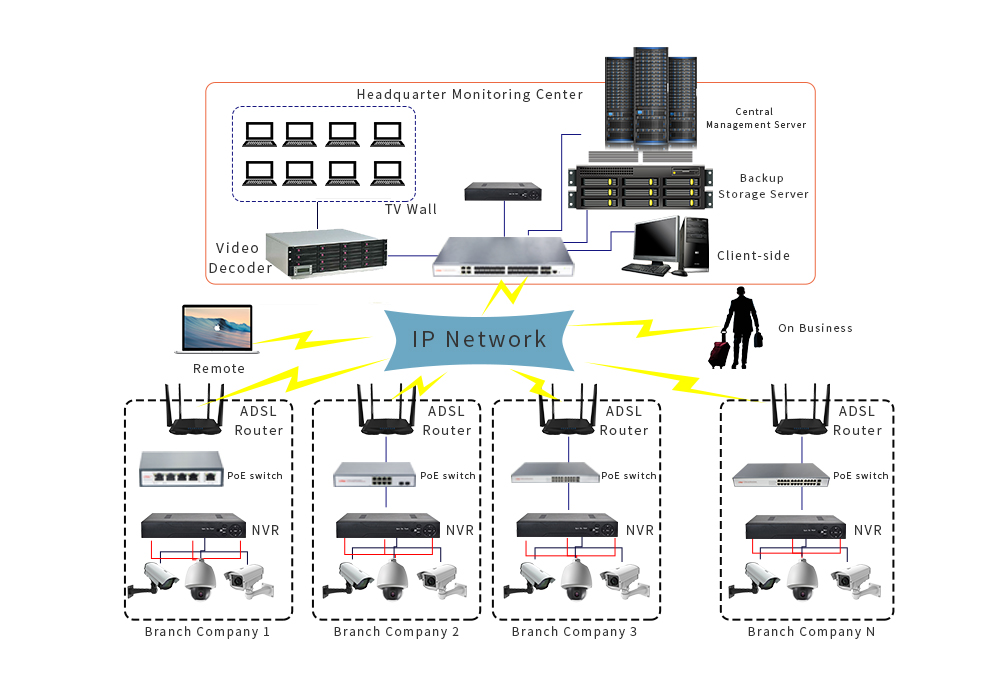 Topology architecture
A star topology network is adapted to implement a two-layer architecture, and simple topology enhances system stability.
Switching capacity configuration
The access layer adopts a 100/1000M backplane, and a large cache PoE power supply switch to set up the highest configuration switching capacity link.
Link medium
The access layer links are all based on the principle of proximity, using CAT6 network cable connection and transmission, and then connected to each unit aggregation switch through the uplink port of each power supply switch, reducing multi-level series, convenient for the entire system after completion Management and maintenance.
Device configuration
The access layer adopts Optical Network Video (ONV) 4-port 10/100M PoE switch ,8 port gigabit PoE switch , and 10/18/26 ports PoE switch , 28-port 10G uplink Ethernet switch as aggregation layer.
Solution Application Products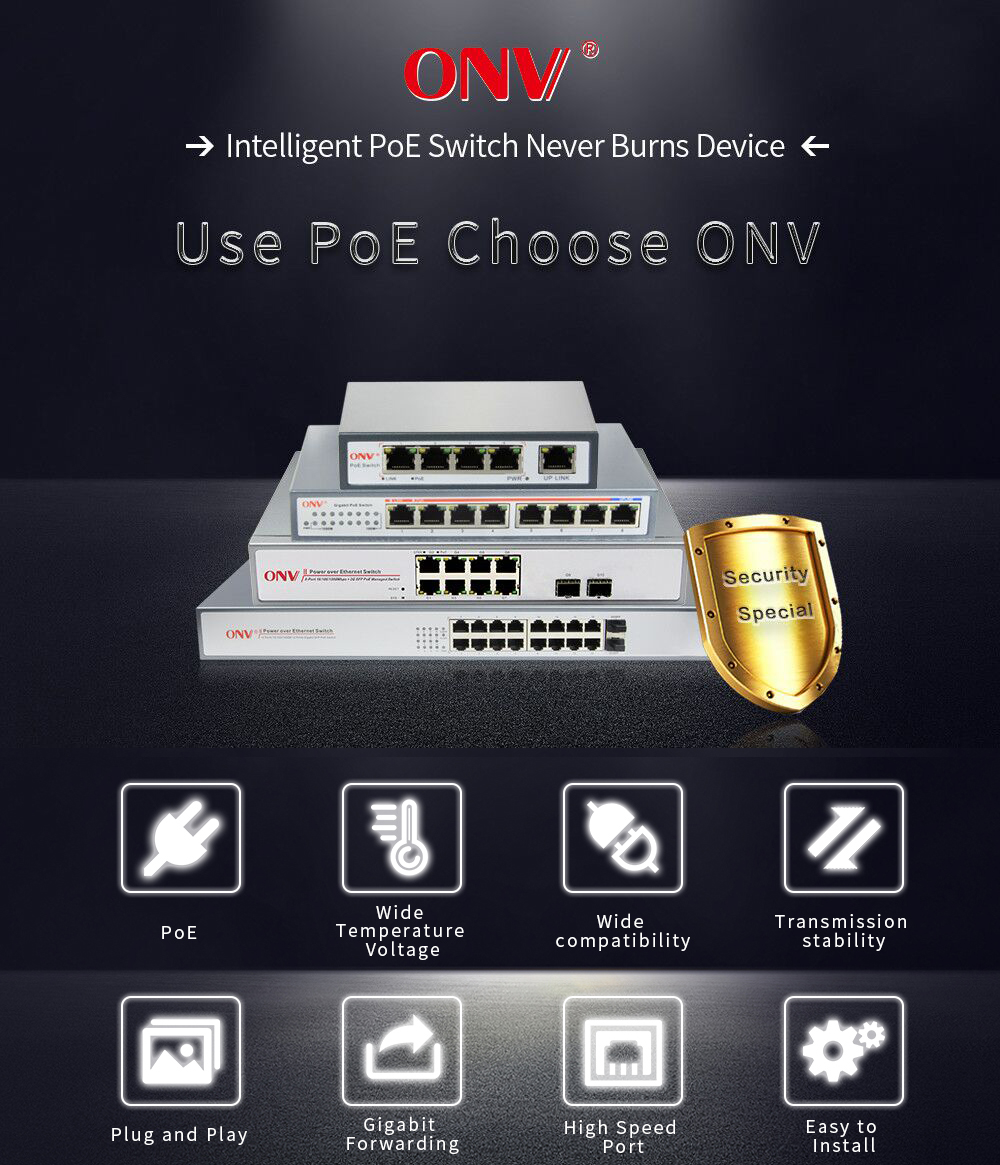 Integrated Network solutions
Optical Network Video has a complete network video transmission solution and a leading technical architecture, which can provide integrated network solutions, from the access layer to convergence layer, from hardware purchase, network optimization, network formation, technical support, maintenance, and other integrated services, to reduce operation and maintenance costs, without worrying about compatibility issues, more economical. When problems arise, there is no need to find different software and hardware agents to deal with them, which seriously affects the operation of the system.
Characteristics of monitoring specialty
For the data packet is transmitted in long messages and bursts. This difference
provides a cache allocation management mechanism to make the PoE switch downlink. The number of bursts supported by the uplink port is increased, and the probability of transmitting the problem is reduced. The security monitoring service fault location component is supported, and the packet loss and connectivity problems in the network are analyzed in real time.
Professional lightning protection
Engineering access switch uses professional built-in lightning protection technology to support the industry-leading 4KV port lightning protection capability, which can greatly reduce the damage rate of lightning strike on devices in harsh working environments.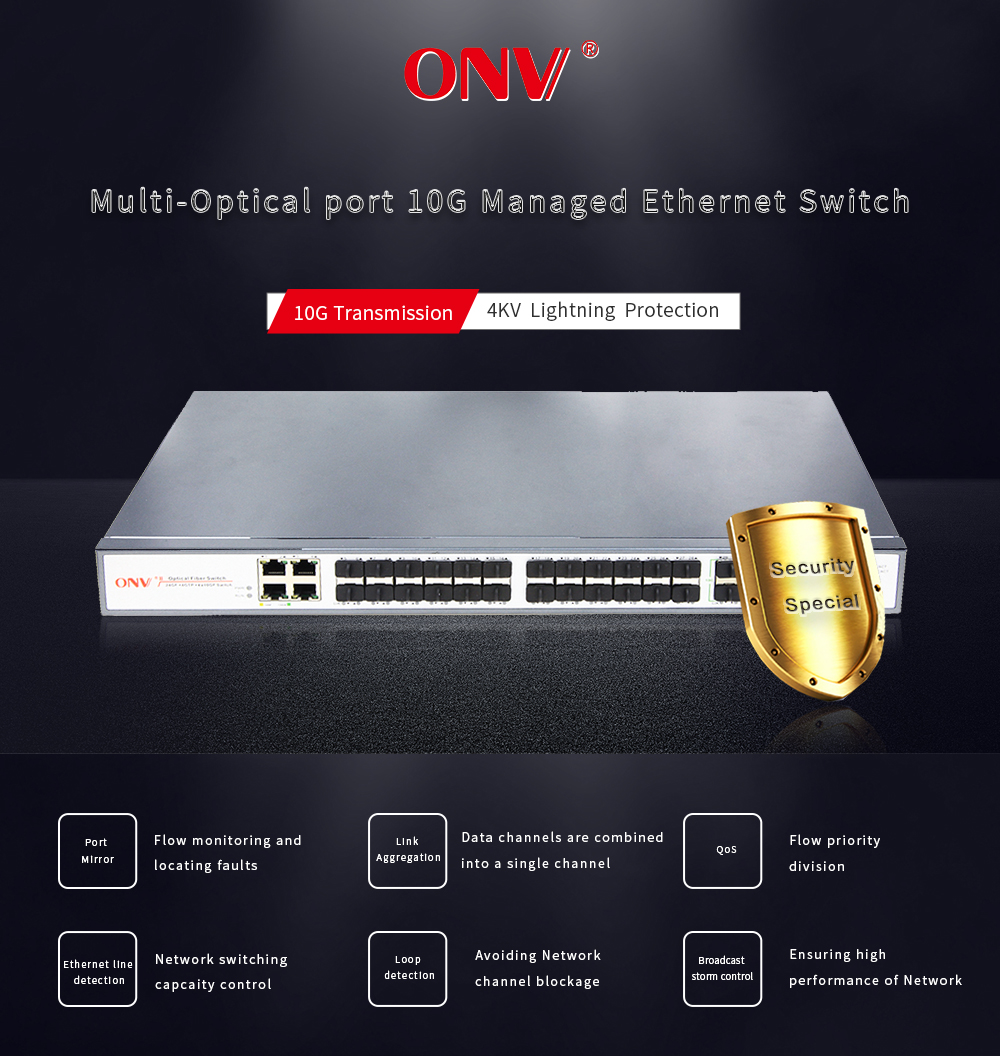 High reliability of network link
Support spanning tree protocols 802.1D, 802.1W, 802.1S, fully ensure fast convergence, improve fault tolerance, ensure stable operation of the network and link load balancing, rational use of network channels, provide redundant link utilization.
Supporting LLDP, it can quickly detect link interruption and unidirectionality of optical fiber links, and support loop detection functioned as ports to prevent network failure caused by private connection to Hub and other devices under ports.
Efficient, stable and green energy saving
It adopts a variety of green energy-saving designs of temperature-controlled smart fan silent design; port automatic energy-saving; one-key energy-saving mode; supports EEE energy-saving function, greatly reduces the power consumption and fault points of equipment, while reducing radiation, reaching the radiation standard of household appliances, and does no harm to the human body. Lead-free patches and welding are adapted to meet the requirements of environmental protection for materials, RoHS standards of China and EU.