Recreation is an integral part of life. Outdoor sport is the first choice for leisure and entertainment. There are many scenic spots, wide area, large mobility of people, and a lot of traffic flow, which brings great pressures to the management of Sanbai mountain scenic area. Using high-tech technology, how to build Sanbai Mountain intelligent scenic area, the formation of an all-round security monitoring and protection system is imminent.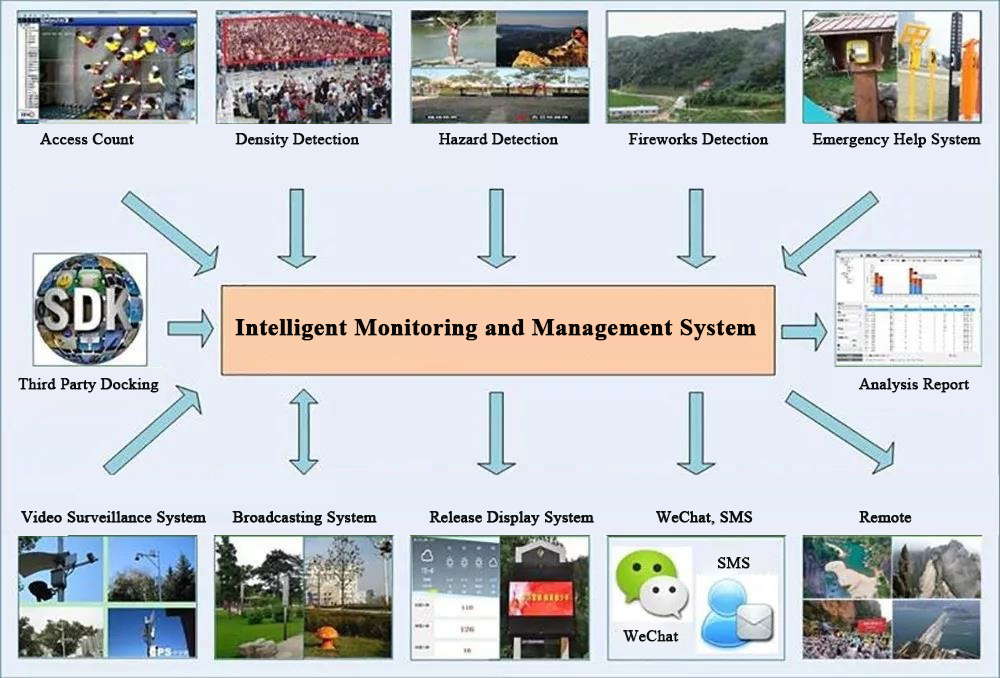 Original network system rectification
There are many sett points and large data traffic in the scenic area. The early video private network construction lacks the overall planning of the video private network.
Difficult to lay wiring
The large area of the scenic area is complex, the equipment covers a wide area, and the distance is long . Cables and optical fibers need to be laid for the video private network, and the laying work is difficult.
Early video transformation
In the video private network built in the early days, the network equipment selection is too low-end to effectively support high-definition video transmission.
The video surveillance storage system is relatively backward and cannot effectively manage video recording.
The numerous agreements on equipment brands are not conducive to the centralized collection and unified management.
System Topology
The Optical Network Video aggregation core switches can comprehensively receive and monitor the access layer equipment in 7×24h, satisfying the development direction of a security network, intelligent and high definition, with high reliability, high quality, and high switching capacity. management, scalability and other features, can be multi-media, long-distance transmission.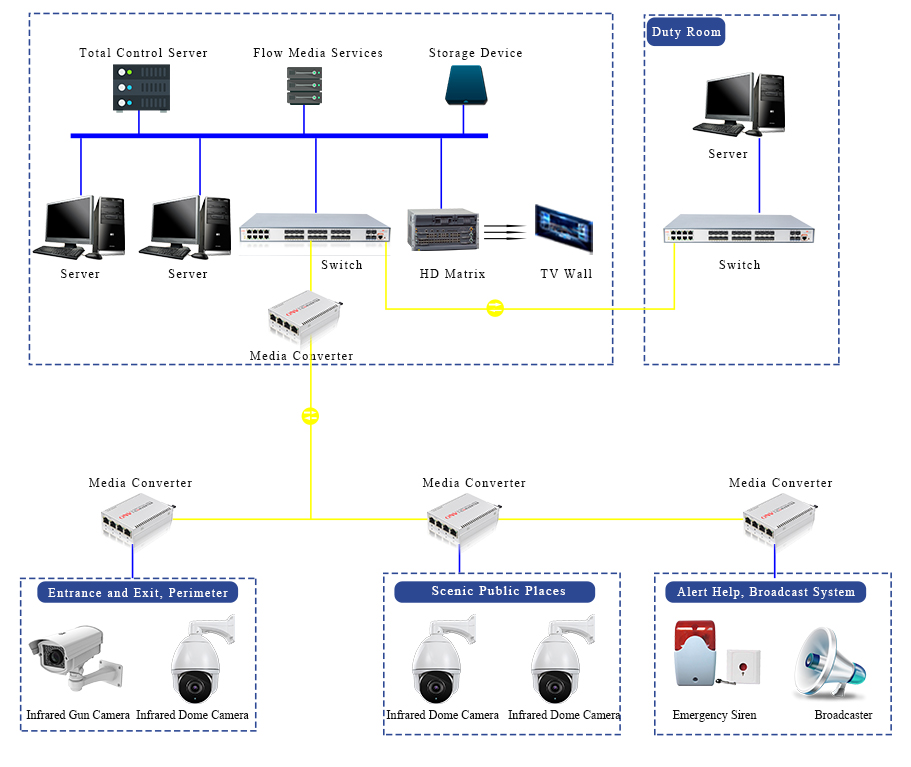 Topology architecture
A star topology network is adapted to implement a two-layer architecture, and simple topology enhances system stability.
Switching capacity configuration
The core layer uses a 1/10G Ethernet fiber switch to build a high-bandwidth, high-efficiency optical transmission link.
Link medium
The access layer links are all based on the principle of proximity, using Cat6 network cable connection and transmission, and then connected to each unit aggregation switch through the uplink port of each PoE switch, reducing multi-level series, convenient for the entire system after completion Management and maintenance.
Device configuration
The core layer adopts Optical Network Video (ONV) 36-port L3 10G managed Ethernet switch.(ONV36368FM)
Application Product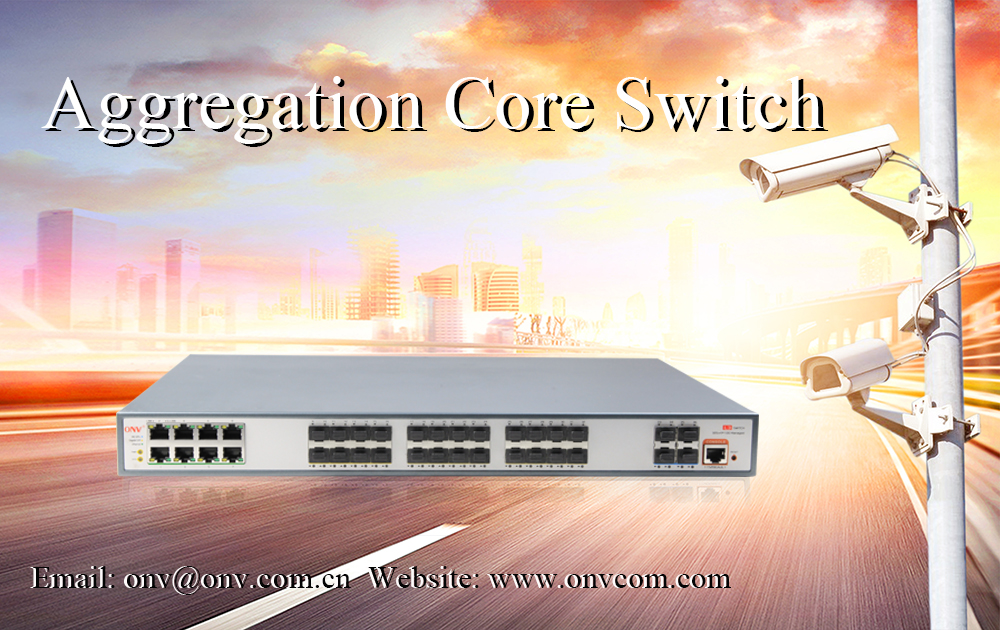 A combination of Ethernet port and SFP fiber port to meet the networking requirements of various scenarios.
8*10/100/1000Base-T RJ45 ports and 24*100/1000Base-X SFP slots and 4*1/10G SFP+ fiber slots.
IEEE802.1Q VLAN, flexible VLAN division, Voice VLAN, and QinQ configuration.
QoS, Priority mode based on 802.1P, Port & DSCP, queue scheduling algorithm including Equ, SP, WRR ,SP+WRR.
ALC, filter data packet through configuring matching rules, processing operation & time permission, and provide flexible and safe access control.
IGMP V1/V2 and IGMP Snooping.
ERPS/STP/RSTP/MSTP.
Static and dynamic aggregation.
802.1X authentication,port isolation,storm control.
Web management, CLI command line (Console, Telnet), SNMP (V1/V2/V3).
HTTPS, SSLV3, and SSHV1/V2.
CPU monitoring, memory monitoring, Ping test, and cable diagnose.